Welcome to journey kids online
Thanks for joining Journey Kids Church online, ONLINE CHURCH just for you!

FIND YOUR age level below for Sunday's kids message and activities you can do together as a family.
YOU CAN ALSO SIGN UP FOR OUR MIDWEEK ONLINE EXPERIENCE, WE'LL SEND STRAIGHT TO YOUR INBOX!
Kindergarten - 5th GRADE // may 24th
Navigators (Kindergarten - 1st graders) join us for ONLINE SMALL GROUP led by Pastor Chelsey! Join ON Thursday April 23rd, May 14th and May 28th at 2:00PM. Please email Pastor Chelsey for the password to join.
TREKKERS (2ND - 5TH GRADERS) ONLINE SMALL GROUP. JOIN US ON ZOOM WEDNESDAYS AT 1PM AND SUNDAYS AT 11:45AM. EMAIL PASTOR CHELSEY AT CHELSEY@JOURNEYINBEND.COM FOR PASSWORD.
Children are not just our future. They are part of our NOW.
We believe that each and every child is unique, deeply loved by God, and designed on purpose. We love helping kids discover the love of God and who they are created to be in Him. It's our goal that kids learn to love God's Word and understand the value of applying it to their lives.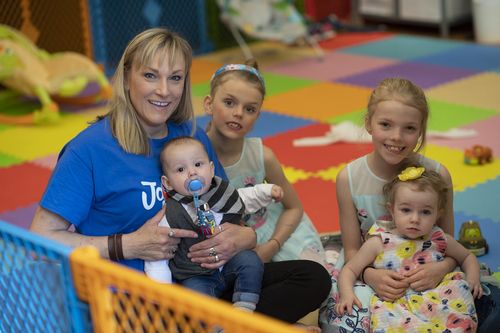 Sundays WITH Journey KIDS
Our Sunday mornings are a mix of free play, worship, Biblical teaching, games, activities, and small groups.
Our Sunday evening service is a mix of free play, worship, Biblical teaching, games, activities, and small groups. We serve pizza to our Adventurers - Trekkers (Ages 2 - 5th grade).
Your kids are very important to us and we want them to love coming to church. That's why we've created church just for them! They'll learn the truth about who God is and who they are through engaging, age-specific activities, Bible stories, and small groups.
When you arrive you will be directed to our NEW FAMILY CHECK-IN station. Here you will register your family. You will receive a unique parent identification tag that will ensure safe pick-up for your child. Please notify us of all allergies, medical and behavioral needs so we can best assist your family. You will be guided to your child's age-specific environment.
AGE-SPECIFIC ENVIRONMENTS
DISCOVERERS (Birth up to 24 months)

ADVENTURERS (Ages 2 – 3)

EXPLORERS (Ages 4 – PreK)

We are privileged to come alongside parents and partner in the growth of your children in the areas of faith, character and understanding God. The message is simple. We want your little ones to know that God loves them, God made them and Jesus wants to be their friend.


NAVIGATORS (Kindergarten - 1st Grade)

TREKKERS (2nd Grade – 5th Grade)



Our Navigator & Trekker areas are an exciting place for kids to hang out with their friends while growing in faith, character and their relationship with Jesus Christ. We want to help your child know how to make wise choices, trust in God no matter what and treat others the way he/she wants to be treated.
We look forward to the privilege of getting to know you and sharing the love of Jesus with your kids!

We partner with families to help kids discover and follow Jesus so that every child knows and experiences God's great love for them.
The Parent Cue handout provides weekly cues to help you make the most of the time you spend together. Available each Sunday in Journey Kids.
The Parent Cue App connects your child with our weekly Bible Stories and monthly verse so they never miss a Sunday.
Get connected with Journey Church through the Church Center App. Here you can register for events and pre-check your child for Sundays and Journey Kids events.
BECOME A JOURNEY KIDS SUPERHERO
Do you have a heart for kids? There is a place for you! Becoming a Journey Kids Superhero will create opportunities for you to get involved in the lives of kids and connect with them on a regular basis. Just as much as you will be impacting their lives, they will be impacting yours. All our Superheroes start with Growth Track. Learn more by clicking the link below.